Audium 11: Explore "Sound Sculptures"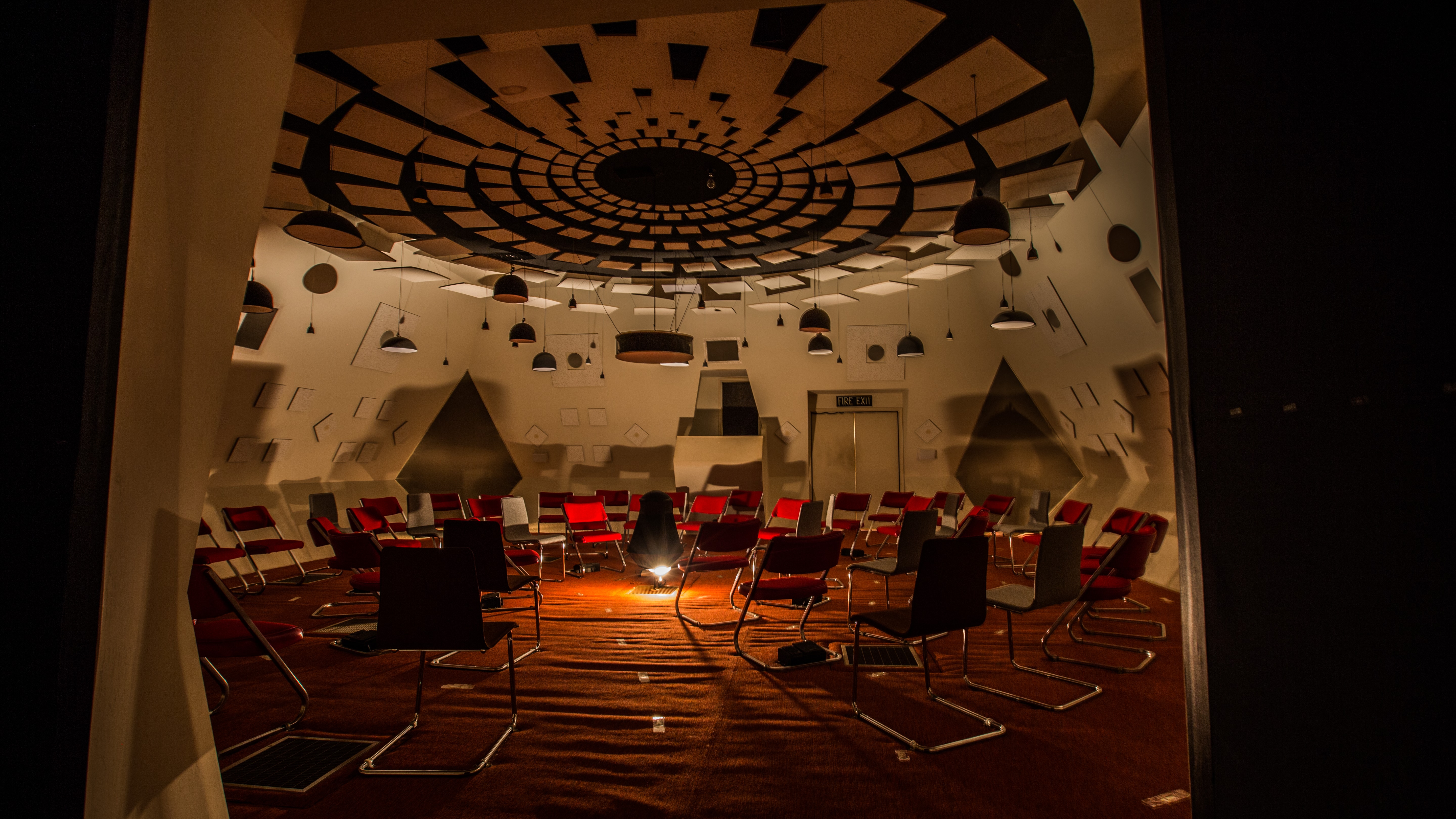 ---
My classes
Regular price

$25 pp for 1 session  (1hr)  · Group class

---
Description
Two years in the making, Audium 11 dives into the primordial world buried beneath the surface of consciousness; the shifting sonic layers deep inside us all. Listeners will be immersed in urban sounds more familiar, as well as a vast assortment of electronic sounds in the abstract. In Audium's pitch-black, 176-speaker space, a calm scene in a cafe can become a raucous thunderstorm, and dark ethereal rumblings can morph into pleasant piano tinkling. For this new work, AUDIUM's entire theater has been reimagined with new sound compositions by father-son duo Stan and Dave Shaff. The building also features brand-new artwork by local artist Ryan Elisabeth Reid. Sculpted "sound pods" float above and around the gallery while abstract images grace its walls. Audium 11 is a performance which take place in complete darkness. Those with concerns are encouraged to research more online before attending. No children under 12 please.
When
Every Thursday, Friday & Saturdays at 8:30pm (Doors open 8pm). Regular price: $25.
Where
Audium Theater, 1616 Bush Street, San Francisco, CA 94109
About Audium
Audium is the only theatre of its kind in the world, pioneering the exploration of space in music. The theatre's 176 speakers bathe listeners in sounds that move past, over, and under them. "Sound sculptures" are performed in darkness in the 49-seat theatre. When the concept of AUDIUM began taking shape in the late 1950s, space was a largely unexplored dimension in music composition. The composer who suspected space capable of revealing a new musical vocabulary found his pursuit blocked by the inadequacy of audio technology and performance spaces. Because of an unusual combination of art and technology—AUDIUM's creators, composer Stan Shaff and equipment designer Doug McEachern, were both professional musicians—AUDIUM's conception and realization were able to evolve jointly. AUDIUM is the only theatre anywhere constructed specifically for sound movement, utilizing the entire environment as a compositional tool. "I have always been possessed by the evocative qualities all sounds seem to have, whether natural or electronic. Sounds touch deeper levels of our inner life, layers that lie just beneath the visual world. All sounds are communicative—sound as birth, life and death; sound as time and space; sound as object, environment or event. Audiences should feel sound as it bumps up against them, caresses, travels through, covers and enfolds them. "I ask listeners to see with their ears and feel with their bodies sounds as images, dreams and memories. As people walk into a work, they become part of its realization. From entrance to exit, AUDIUM is a sound-space continuum." - Stan Shaff, Composer