Learn to Build, Edit or Repair Your Own Website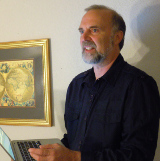 ---
My classes
Private class

$1 pp for 1 session  (1min)  · Private class

---
Description
Through phone and screen sharing, I show you how to accomplish exactly what you want to do on your own website, including building a WordPress website from scratch. Unassisted, WordPress can seem quite intimidating, even downright frustrating. However, with guidance, it suddenly becomes easy. The typical person needs two one-hour sessions to go from zero to 100% with WordPress. I'm also just the guy you want to call for learning to edit your site, fixing a hacked website, adding SEO, even social media marketing to bring many more visitors to your website. I charge $60/hour with one-minute granularity. You may have a simple question that can be answered in just a few minutes. No sense struggling. If it takes three minutes to answer your question, the price is literally $3. I've been working with websites since 1995. You'll enjoy my friendly, informative style.
When
You can call anytime and I may be immediately available, or we can schedule a specific time by phone, email or text.
Where
Morro Bay, California
About Jeff Napier
I've been building and repairing websites since 1995.